One of the questions most of the couples searching for Wedding Photographers in Pune for their pre wedding is about recommendations for a pre wedding location in Pune. So we decided to start building a list of common places for pre wedding.
When a lot of couples start planning for a pre-wedding or post-wedding shoot in Pune, they are somewhat clueless about cost and location. They feel confused about which place they should choose for a photoshoot.
Many couples want to know the best places for a destination wedding in India but pre-weddings are different. I am a firm believer that location has a very limited role in the outcome of the pre-wedding photoshoot.
An experienced photographer's job is to bring the chemistry of the couple into the pictures. The chemistry is not much dependent on the location. There is nothing called best photo-shoot location. The place for the pre-wedding shoot is a just backdrop and a way to enhance the look and feel of the shoot.
The main criterion for choosing the location depends upon the overall budget for the shoot and the style of shoot.
Most of the places require permission and subsequent charges to use the location. It could vary anywhere from Rs.500 to Rs.50,000 ( and even 1 Lac+ ). Hence budget is an important factor in choosing a place.
For a casual shoot, a public place can work but if you are looking for a stylized shoot or a romantic pre-wedding shoot, a private location such as resort is more comfortable. All these private places have a limited crowd which makes it easy for couples to get into the groove. All the location charges in private resorts are highly negotiable.
Check out this post on Web Stories? "Popular Prewedding Locations in Pune".
FAQ About Location/Place Costs For Pune Pre-Wedding Shoots
Here are a few locations for the pre-wedding shoot near Pune with approx location cost.
1. Personalized Custom Package
Couples see pre-wedding pictures shot at someplace. They start contacting photographers for quotes for that location.
Most of my couples come up with such inquiries and they are looking for standard packages. But soon they realize they want something exclusive.
They want me to design a couple of shoots that stand out and reflect their chemistry.
All prewedding shoots are pre-planned and the location is selected as per the plan decided by the couple and me.
Most photographers provide you a customized quote for your pre-wedding photoshoot based on location, the time required to shoot, and travel time. So any standard pricing for a pre-wedding shoot means a standard pre-wedding shoot.
So I recommend you plan your shoot and see which locations will help you execute your plans.
Permission Cost: Rs.15,000-Rs.50,000
It is a botanical garden in the camp area of Pune. Many pre-wedding shoots happen in the garden, especially in the morning. There are charges to shoot inside the garden. It opens at 9 AM and remains open till 5:30-6:30 PM depending upon the month.
They also provide a basic changing room which is used by multiple people as there are chances that multiple shoots may be going on leading to a lot of time getting wasted in waiting for the room to be available. Check out more pictures from the prewedding photoshoot at Empress Garden, Pune.
Permission Cost: Around Rs.750
Also known as Pune-Okayama Friendship Garden. This is another famous garden in Pune near Sinhagad road. The permission is available at Sambhaji garden ( JM Road ). But the only issue is that they take demand draft as a mode of payment that can be cumbersome for many couples.

Permission Cost: Rs.500 as DD ( demand draft )
4. Wada in Pune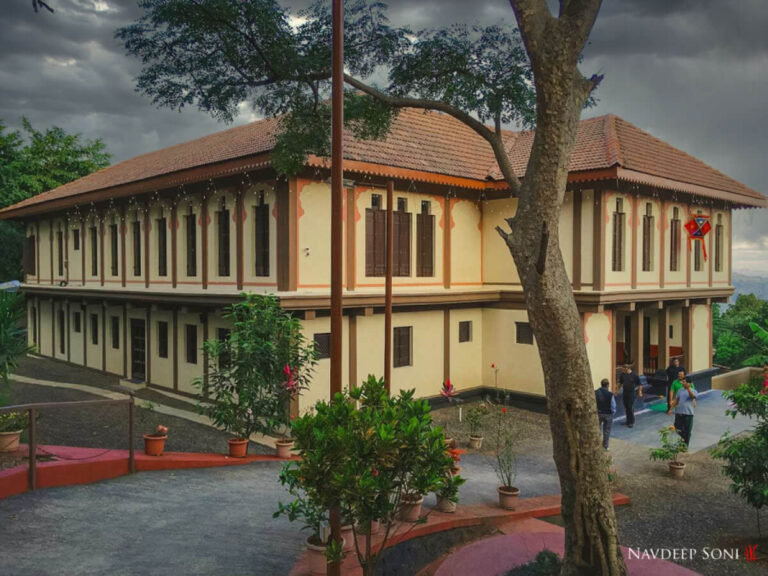 With all the modernity, you may want to consider a traditional place that can transport you back to rich Maratha culture. You may be aware of the iconic Shaniwar Wada but that may not be a viable option due to permission issues and a lot of public attention. But there are much smaller to medium size WADA in the city that can be a good background for a beautiful prewedding shoot.
If you are looking for a heritage resort with a similar "WADA style" feel, check out Dhepe Wada in Mulshi.
Permission Cost: not available.
This is a resort cum golf course. It is situated in Bavdhan, Pune. Although many weddings happen every in this resort they are not fully open to the idea of a pre-wedding shoot. You can use the resort area or chalets but they won't allow you to use the golf course.
Permission Cost : Around Rs.15,000
It is a famous tourist place in Pune. They use to allow pre-wedding shoots but the latest what we have heard is that they have stopped it now. No harm in checking once again.
Permission Cost: Info not available
(UPDATE: Lately they have stopped allowing pre-wedding shoot but it is good to call them and recheck )
Lavasa is around 50kms from Pune. It is a very famous and go-to place for many couples. Lavasa as a location for a prewedding shoot is among the top 5 locations in every couple's list.
Permission Cost : Rs.5000 – Rs.10,000
If you are planning a shoot in Mulshi and looking for a resort in Mulshi for a pre-wedding photoshoot. Do consider Residency Lake Resort. Click on the picture below to check out our shoot from this resort.
Permission Cost: Rs.10,000
It is a boat and restaurant at Pawna Lake. It is around 60-70kms from Pune. This can be a good option for a pre-wedding shoot. It has a lake surrounded by hills with the facility of motorboats. Accommodation is also available for overnight stay.
Permission Cost: Info not available
9. Tiger Point, Lonavala
If you are looking to shoot on the hills that would remind you a bit of Bollywood than tiger point or areas near tiger point.
Permission Cost: Nil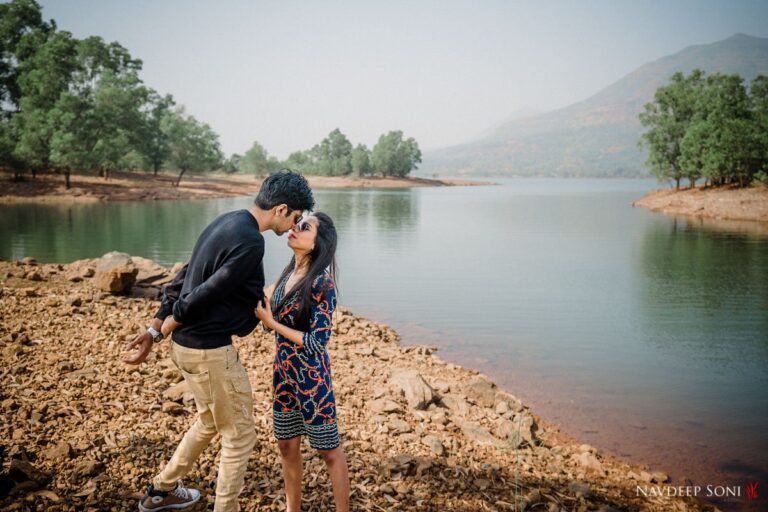 It is a famous weekend drive for many Puneites. Hence very famous for a pre-wedding shoot around Mulshi lake. I suggest booking a resort ( See – pre-wedding shoot at a resort in Mulshi ) in Mulshi and shooting on the lake as well as in the resort but if you want to eliminate permission cost then you can shoot around Mulshi lake.
Permission Cost: Nil
You can choose this place if you want to have a destination luxury pre-wedding shoot near Pune.
Permission Cost: Info not available
Recommended for a stylized pre-wedding shoot near Pune. It is a nice well-maintained resort near Pune. The only deterrent could be the high cost of location charges. We did a shoot here. Click on the heading to have a look.
Permission Cost: Rs.20,000 onward. ( call for a special discounted price as we have a tie-up )
Malhar Machi Property Location Tour, Pricing & Discount Info
This is again a beautiful place if you are looking to shoot in nature and backwaters. The only caveat could be 4 hours drive from Pune. But it will all be worth it. Flying drones for aerial shots won't be an issue. You also get a view of windmills too.
Permission Cost: Nil
Also called Vetal Hill which is off Paud Road, Kothrud. Good for early morning shoot as you walk up-to-the hill. You can find many joggers on the track. It gives a nice view of Pune city.
Permission Cost: Nil
16. Khanapur, Panshet Road
The area around Khanapur can be used for a pre-wedding photoshoot for beautiful sunset shots around the lake.
Permission Cost: Nil
It is a quiet, serene temple away from the city. It is around 35Kms from Pune. If you are looking for a shoot with a nice old feel temple backdrop. This could be your place for a pre-wedding photoshoot. The added advantage is almost zero crowds.
Permission Cost: Nil but you may donate Rs.100 to the priest/temple.
18. Bollywood Style Outdoor Studio Set
It is perfect for fun and cheesy style pre-wedding shoots where you have multiple movie song style sets by SnapCity right here in the outskirts of Pune. These theme-based sets will remind you of Venice, Greece, and London. The location has a changing room as well as privacy with no crowds.
Permission Cost: Rs.13,000 onwards
---
Book Navdeep Soni for a prewedding shoot!
Call Now at +91.9923.00.22.34 / hello at navdeepsoni.com
Checkout: Pre Wedding Location near Mumbai.
( Last updated: Oct 2022 )