Unlike weddings, pre-wedding shoots can be planned and should be planned. But planning means more effort and work for a wedding photographer and the couple.
Being creative is not about thinking on the fly or a location. It requires visualization involving three key ingredients location, dresses and the couple. The outcome is dependent on these three factors.
Hence we plan our pre-wedding couple shoots along with our couples going into the details of each factor.
The important question right now is
Does it really increase the work for our couples?
not really?

Navdeep Soni
It is just helping our couples to make mindful decisions that are in line with the overall plan of the pre-wedding shoot.
First Call from the Couple
Any idea what happens on the first call from the couple?
Most of them have two questions: Pricing (which is understandable) and which location in "xyz" city you shoot?
How many of us believe pre-wedding photography is heavily dependent on the location you choose?

Navdeep Soni
It is social media and some instant money churning wedding photography which has fed some fixed ideas about how wedding photography works.
But there are a lot of wedding photographers like me who are interested only in a limited number of weddings and pre-wedding shoots in a year. It is just not a "business" (although it is) but also an effort to be different in whatever we have done in the past shoots.
Understand why a couple wants a standard package, styles, locations, poses to for their shoots. Well, it is not the fault of couples, it is the under-confident photographers who lack creativity, are the people responsible for so much mediocrity.
They are happily replicating what is working on Instagram explore. Copy/pasting poses to locations and even lighting and editing styles which garner likes and comments on other photographers' Instagram feed.
Let us look at the factors in little more detail to understand their role in the pre-wedding shoot.
Key factors affecting Pre-Wedding PhotoShoots
Location:
Choosing a pre-wedding location is critical. It is critical not because it is the only factor responsible for good pre-wedding pictures. The role of location is to understand if it suits the kind of pictures we are planning to create.
Say you are planning a mushy romantic shoot but with not so extrovert couple. What location will be better? a renowned public place with a lot of crowds or some Airbnb villa/resort?
Couple:
I think knowing my couples is the most crucial part of my shooting style. I have to know them and understand their chemistry. Most of them are not even located in Pune.
I have my unique ways to understand and make my points. It is important for me to respect their personal space without making them awkward with silly questions.
I gather my info on how they talk on the phone, how they talk about their other half. How they converse on email. How they see the world around them. At times asking them to share their few random pics on WhatsApp they might have clicked together as we all do.
It is an art and a knack of understanding couples without behaving obvious 🙂
It is about knowing their style of personal touch they give. Interesting people who are enthusiastic about their wedding/pre-wedding is a big green flag for me
Dresses: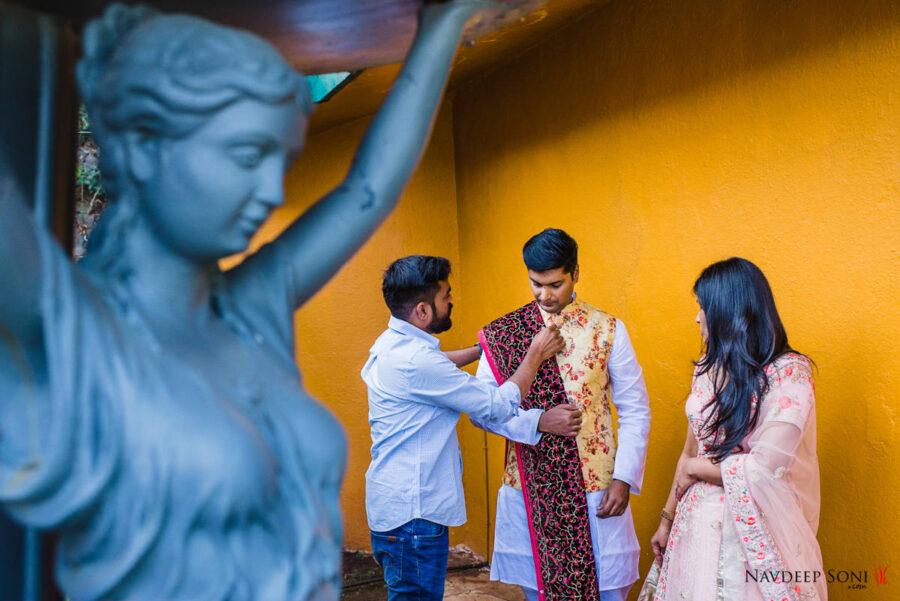 It is a relatively easy part. I suggest the colors and help them or give them direction in how they can stylize. Remember the pics they must have sent to me ( discussed in above). It helps me visualize how they will look at a certain location with the kind of dresses I am suggesting. The height, skin tones and body language all come into the picture when I suggest dresses.
Budget:
All of the above factors are dependent on the overall budget. A couple needs to pay the photographer fees, location charges, stay charges, food and air tickets. The goal is to design the best looking at all the resources available with the budget.
Closing Thoughts & Conclusion
A pre-wedding shoot for me is not about a couple walking together holding hands or awkward poses which sooner or later ( in few years ) will make them look silly.
A pre-wedding shoot of our couples is all about creating memories where they can identify themselves. A photographer's way of bringing their love and chemistry into the pictures. The pictures they want to see again and again. It is not a passing fashion that will go out of style because fashion goes out of style. Real people and their emotions are always in vogue.
If you have any queries, I am call/email away (+91.9923.00.22.34) or drop a comment below and I promise to respond within 24 hours.
Share it with someone who is getting married. Guide them on what wedding and pre-wedding photography are.