Let's talk about some wedding decor ideas and trends in Gujarati Ahmedabad Weddings :
Wedding decor ideas & trends that Gujaratis love
While the vibrant culture and color are making foreigners ditch their home countries to get married in India. It is the change in the economic dynamics and the love for the fervour that is making many Indians themselves splurge and have grander weddings in the homeland.
And Gujaratis are leading the pack. And they are always up with the latest in Indian wedding decor ideas and trends.
Gujarati weddings are full of color, vigor, and fun. Though there are plenty of wedding destinations all over the country, Gujarat itself is not short of beautiful locations. There are many cities in and around Ahmedabad that offer the perfect setting for hosting luxury weddings. ( Check out the link under the big Bollywood wedding stage decor picture.)
The things that make a wedding beautiful, apart from the rituals and happy faces, are décor, planning and wedding photography. Having shot a couple of weddings in Gujarat, I can easily say that the décor trends there are always completely spot on.
Let me share with you the hottest wedding décor trends that are making the Gujarati weddings look even prettier.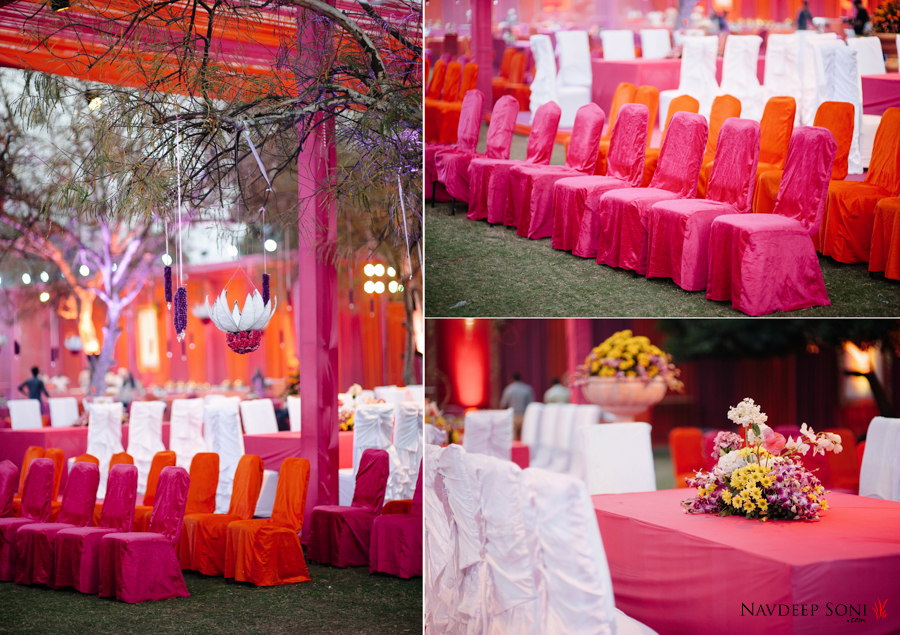 Mehndi decor – Marigold with plenty of Fuschia Pink
Mehndi decor primarily in Gujarati weddings is driven by the use of marigold. The vibrant yellow in the sunshine makes for such a beautiful backdrop for creating stunning photographs.
The fuschia drapes and colorful cushions add to the sunny setup and are the most sought after color theme in the decor. There are many little interesting details like peculiar formations using the marigold flowers, lining the staircases that can make the décor stand out.
Wedding props
Any wedding can be made fun using the right props. Hanging frames, lamps, colorful umbrellas hanging upside down from the drapes, the Rajasthani puppets, unique pots with flowers are
interesting additions that I have seen across Gujarat.
Table Setup Ideas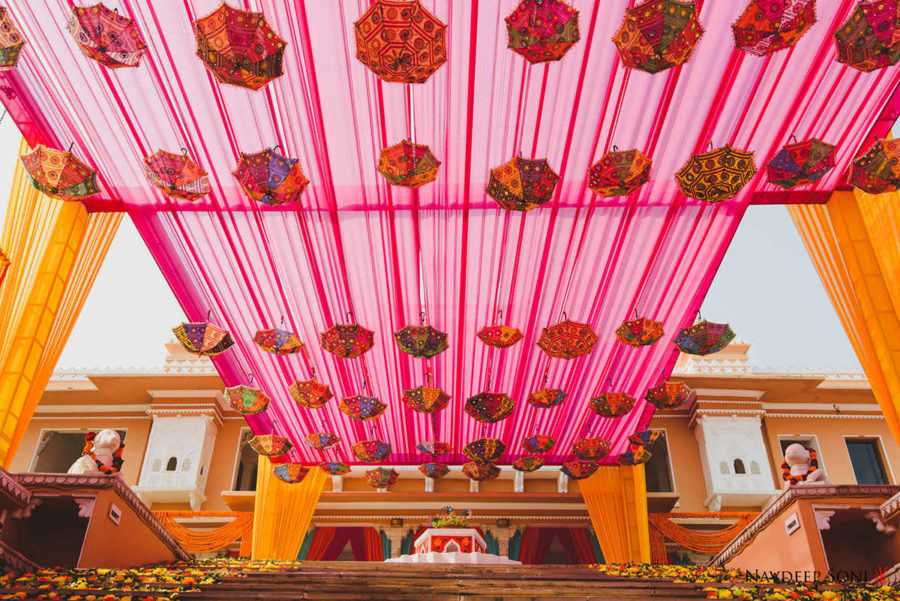 Unorthodox use of lights
The use of candles, light strings at unusual places is also among the hot décor trends in Gujarat. They not only create a plethora of lighting hubs but also make the pictures look beautiful.
Electric candles in fish bowls, either hanging or placed on the floor, the knotted light strings hanging from props or trees are very much in vogue.
So if you are planning your own wedding or it's your friend who is, make sure you incorporate these elements in your wedding décor to make a Gujarati wedding even more happening.
2022 Wedding Decor Ideas – By Navdeep Soni
"Weddings need an eye that can capture the real emotions visible on faces, body language, decor, food etc."

– Navdeep Soni