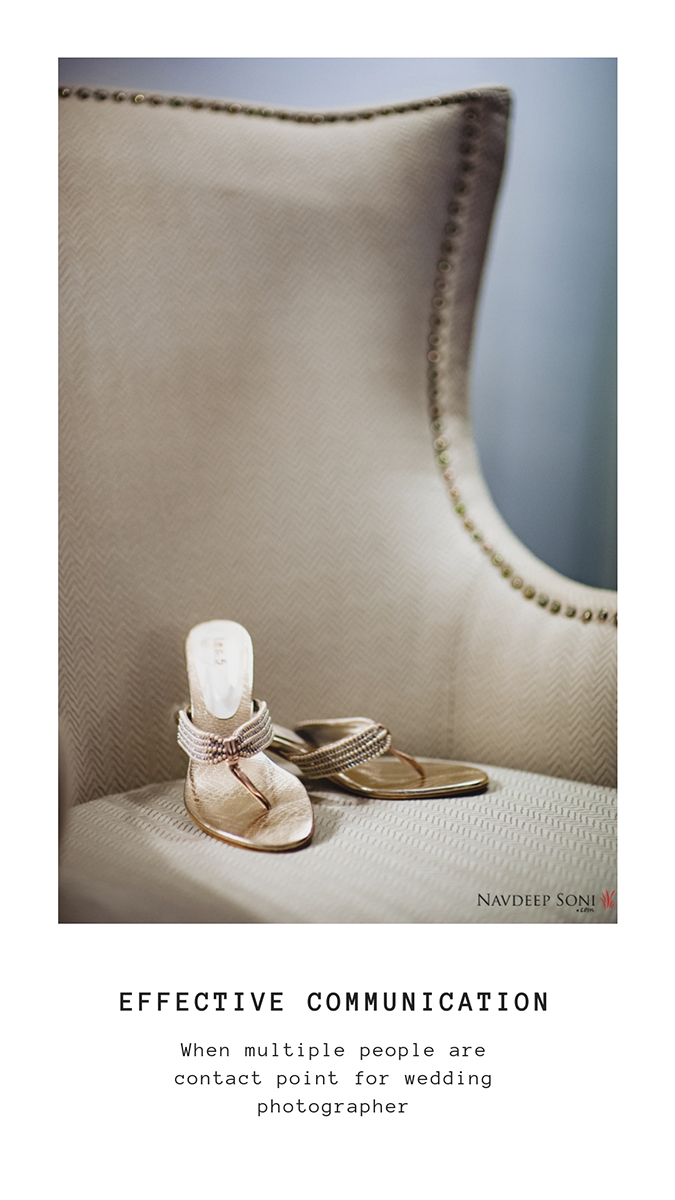 Indian weddings are big affairs to plan and manage. There are so many areas to look into so that you can plan the entire wedding to perfection. Almost all the immediate family members involve themselves in the wedding preparation. Initially, they may define their areas but it does not end up how it started. It is a big project to manage and execute a wedding. But we can't expect it to manage it the way we do project management. Most of the times the lines get blurred between the stakeholders and then they end up looking into each other's areas.
As wedding photographers, we meet and plan with the bride, groom, parents and event managers. But most of the time we communicate with the single point of contact which is a family member. But there have been rare occasions when we have faced the situation where we were dealing with multiple points of contact. Multiple points of contact are quite normal during the actual wedding days but not prior to the wedding during the planning phase. Let me share some common problems when you have more than one people are communicating for the same requirement.
Miscommunication
There are always chances of miscommunication when you have multiple points of contact. When interacting with wedding photography team. The requirement is generally quite simple and you can email it your wedding photographer. The problem starts when suggestions start pouring in from multiple people on phone/email. It is difficult to make a concise plan by collecting info from the different sources. Have a discussion together as a family and pass on the info through one person. This will eliminate any chances of miscommunication between photography team and family.
Last minute surprises
Last minute changes to the plan can be tricky to handle or accommodated easily. Especially when it comes to team size or allocation. These last-minute surprises generally arise due to miscommunication or confusion created due to getting info from more than one point of contact. Most of the families hire photography teams 6 months to a year in advance. Initial requirement let say had 300 guests for the reception but as the preparations evolved over the next few months. Family forgot to involve this change with the wedding photographer. It can happen because it is easy to assume the other family member or event manager will email the photography team. But in reality, no one did. This can be easily avoided when it is clear to the family that the only person is interacting with the photographer.
Self-managed Team
Most of the professional wedding photography teams are self-managed teams and does not require any management by family or event management team. Photography teams are self-sufficient and perform best creatively when there is no interference. When there is one point of contact throughout, both the family and the team are confident they are on the same page. There is no cross-checking required before every event. Families can be carefree with respect to photography and wedding videos. When multiple people are in touch then it is a common scenario of cross verifying from each other so that they are not missing on something.
Better execution of the photography team's plans
When any team is self-managed, they execute plans more effectively and without any hassles. Every team member knows its role. Communication is surreal and minimum among photography team members. The lead photographer has already updated his team members about the plan so everything is smooth. Last minute changes communicated to lead photographer will have a ripple effect. The effect will flow down to each team member. They will have to tweak the plans as per new changes.
Avoid confrontations
It can also avoid possible confrontations when you are dealing with one person from family. In a given situation, say we have a scenario where the family is going through the wedding album/book draft and layout designs. There have been scenarios where one of the family members did not view the layouts. And then requested for changes in spite of other members have already approved. There can be a conflict among family members for certain changes or selection of pictures. This increases the number of iterations. Most of the professional candid photographers have 2 or 3 iterations in the actual packages. Anything extra is chargeable. This often leads to unpleasant experience on either or both sides.
Finally, when we hire any professional services, the idea is to have a better experience and less of hassles. A careful thought on how to manage the big occasion like weddings can make the entire process smooth and fluent.
You can listen to me about this topic on my podcast. Do listen to it below if you don't want to read