Well the title might drive you to crazy thoughts about freelance wedding photography or freelance wedding photographers. You may have assumed they are not worth hiring or they are bad in creating artistic works. Let me clarify that this small post takes a dip into a another aspect of wedding photography. It has nothing to do with these crazy thoughts. I have been a freelance photographer cum software engineer for few years before plunging into full time professional photography. I know a lot of talented freelance wedding photographers who are not only inspiring but you can also rely on them for professional work.
The thoughts shared in this post can be considered as a wedding planning tip or personal experience of a wedding photographer based in India. While shooting weddings I do come across photography enthusiasts ( guests ) . They are clicking with their cameras, point and shoots, iphones, mobiles, ipads and any device with a capacity to click pictures. The enthusiasm and keenness to get good pictures is easily visible on their faces and brings smile to my face. Sometimes the enthusiasm gets them to come in front of me while I am clicking which is usually unintended. Most of them even apologize immediately and make way for my lens to snoop out. Okay you guys must be thinking this post was about freelance photographers..
Let me start again from where we started. There have been occasions where freelance wedding photographer is shooting in the same wedding where I have been paid to shoot officially. They are in addition to the team of traditional wedding studio team hired by the couple. As a part of my agreement with couple they are requested not to hire another photographer or team of photographers for candid photography. There are some practical reasons for this suggestion. They are more than often shooting from my back or unknowingly would be just in front of me. This could be a real turn off when as a photographer you want to shoot the entire scene in a certain way but your view just gets blocked and you end up shooting it from another angle.
Below dipytch, is from a scene where bride was making an entry. I had to change position twice in this case. You cannot afford to miss the key moment so you shoot from another position. But somewhere I could not take the actual shot I "saw" ( or wanted ) when she entered. There are weddings where I have a co-shooters and even freelancers shooting in my team. But we shoot with a plan and don't end up blocking each other. Now as a bride or a couple, Does missing a few shots from your official photographer is not a big deal in comparison to few thousands of additional wedding pictures from your freelance wedding photographer ? .. take your pick 🙂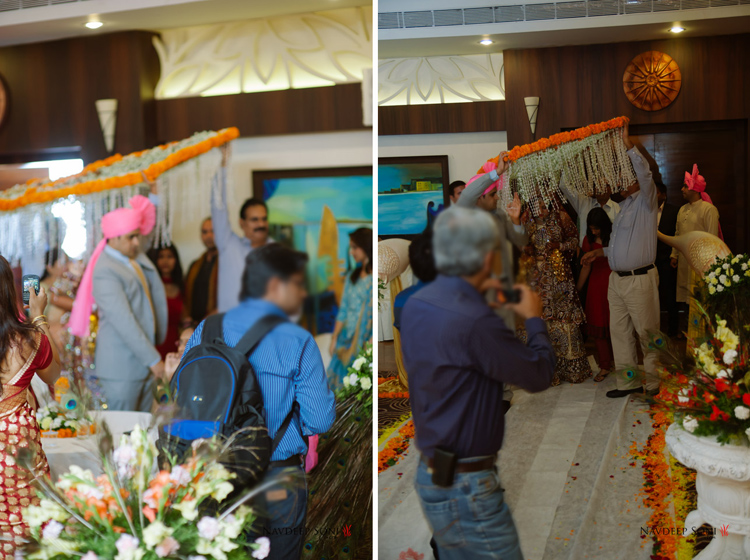 Freelance Wedding Photographers – By Navdeep Soni